Plug-and-Play Data Protection – Anywhere, Anytime Management
Up to two-thirds of small and medium enterprises have experienced critical infrastructure failures such as malware attacks. Many of these organisations struggle to recover from the data loss, reputation loss or capability loss that results from these events. Data loss and downtime are the killer outcomes of these events that can bring even the biggest organisations down. Data and system backup is a key mitigation strategy to protect against these types of events.
StorageCraft's OneXafe Solo is the solution for businesses that need an affordable way to protect their critical systems and data. Solo's plug and play technology means that it can be easily deployed to remote offices and sites, production facilities, and small business environments.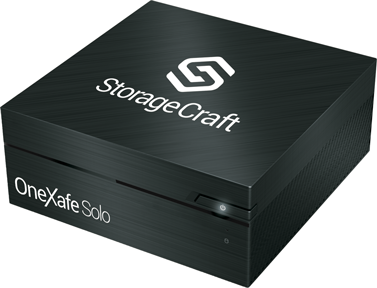 Data Protection for SMEs – Enterprise class, cost effective & simple
OneXafe Solo managed by 1Call protects critical computers and data including servers, CAD workstations, production control computers, laboratory computers, security controllers and environmental monitoring systems – in fact any critical IT asset that your organisation absolutely depends upon.
OneXafe Solo works by streaming data directly to the cloud to create a complete replica of the protected devices in the StorageCraft Cloud. OneXafe Solo significantly reduces infrastructure requirements onsite while disaster-proofing the data at the same time.

Simply deploy the OneXafe Solo on the network with the devices to be protected and 1Call's managed services team will do the rest: configure protection for the devices, manage the cloud synchronisation, and then monitor the ongoing protection of your critical devices.
Watch the short webinar below where we provide an overview of the types of situations and assets that OneXafe Solo is designed for, and how 1Call can protect you critical technology assets no matter where they are located in New Zealand.
Contact us now for more information about OneXafe Solo from 1Call