Why Microsoft 365 Customers Need a Backup Solution
Many business owners using Microsoft 365 believe that their data is totally secure. The reality, however, is a different story. Although Microsoft offers many benefits in productivity, efficiency, and collaboration with Microsoft 365, the company doesn't provide users with a comprehensive backup system for their underlying data. SkyKick Cloud Backup from 1Call can fill that data protection gap for Microsoft 365.
Hacking and theft, user error, and unauthorised insider actions all put user data at risk in the cloud. While companies do their best to prepare and protect against these problems, no plan is foolproof, and stories of data loss are far from rare, with the average data breach costing small businesses US$149,000. About 32% of companies get hit by data loss in the cloud, with the most common cause being deletion. Although nearly two-thirds of data loss is accidental, 20% is lost to malicious intent, including hackers.
Cloud Backup Saves Data, Time, and Money
Cloud backup can be the difference between a slight blip and a disaster, and it can offer end customers a way to mitigate these risks. For example, data stored in a user's OneDrive is automatically deleted thirty days after the account's license is removed; many times businesses do not realise that users have been storing important documents in their OneDrive instead of SharePoint until it is too late. SkyKick Cloud Backup retains OneDrive data indefinitely, so this sort of information can be restored even after Microsoft have deleted it.
Similarly, deleting a Microsoft 365 Group automatically deletes all of the SharePoint and OneDrive data associated with the group; an innocent group cleanup can inadvertently and easily delete thousands of group documents and files. This information can be recoverable from the recycling bin for a while, but this would have had to have been done before permanent deletion by Microsoft occurs. Luckily, backing up group SharePoint files with SkyKick's Cloud Backup would mean that all the files can be restored within minutes or hours — a significant improvement in efficiency and security.
Ransomware is another issue facing SMBs across the globe. Although it has become more sophisticated, many schemes are still simple and catch users off guard. The recent hack of the Waikato District Health Board here in New Zealand should offer a salutary example of how even well-resourced organisations can succumb to ransomware, and how difficult it can be to recover once hit.
The fact is that having only one copy of important data is asking for trouble, whether it's stored in the cloud or elsewhere. If your data isn't backed up, you could be facing not only a loss of productivity as you scramble to rebuild, but also a loss in revenue and reputation.
Microsoft 365 is an excellent service that gives you access to your data from virtually any place at any time — and across many devices. As a software-as-a-service (SaaS) built on the industry-leading Azure public cloud, Microsoft 365 offers users high reliability, geographic redundancy, secure connectivity, and basic data retention capability.
This should not, however, be confused with a comprehensive data protection solution. Microsoft does not back up Microsoft 365 user data, so it recommends that customers use third-party solutions. Furthermore, Microsoft doesn't protect data from common issues like file corruption or everyday human error. Nor does it offer a way to easily revert to older versions if something goes wrong beyond their normal data retention policy.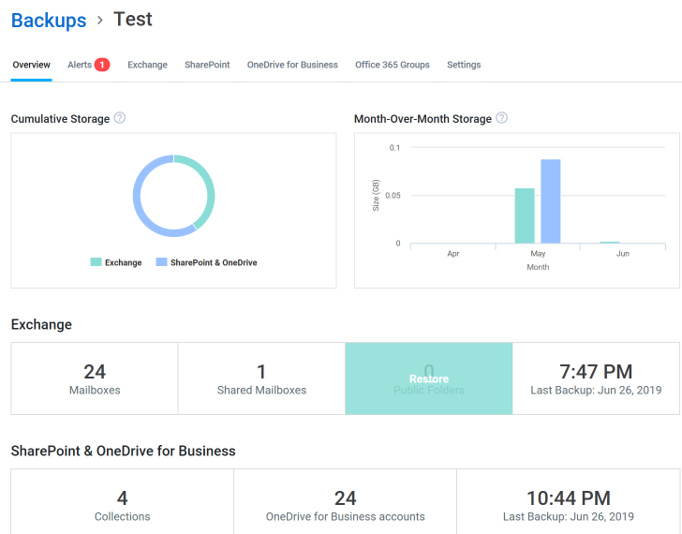 SkyKick Cloud Backup from 1Call Is Easy to Use, and Recovery Is Fast
Not all backups are created equal, however. When looking into a solution that can protect your data stored in the cloud, there are a few fundamental questions you should be asking your vendor:
What data is actually being backed up?
How is the backup data being stored and protected?
How often is data backed up, and how long is each backup version kept?
How easy is the data restoration process?

SkyKick Cloud Backup from 1Call is a flexible, agile, and reliable solution that offers comprehensive data protection across the full Microsoft 365 tenant, unlimited storage and retention of user data, and a hassle-free setup and run experience. And data recovery, when needed, happens fast, which gets your company up and running with minimum downtime. Contact us for more information or to explore your options.